TIMELESS IS A CONCENTRATED SUPER-ANTIOXIDANT SERUM. AN INTENSIVE TREATMENT TO BE ACTIVATED JUST BEFORE USE TO MAINTAIN ALL THE FRESHNESS OF THE ACTIVE INGREDIENTS AND FOR THE MOST POWERFUL RESULTS. IT CONTAINS 3 SUPER-ANTIOXIDANTS (VITAMIN C, FERULIC ACID AND LACTOBIONIC ACID) WHICH WHEN USED TOGETHER EFFECTIVELY COMBAT DAMAGE CAUSED BY THE FREE RADICALS
RESPONSIBLE FOR SKIN AGING. THE SKIN LOOKS BRIGHTER AND MORE VIBRANT, FINE LINES ARE REDUCED AND THE COMPLEXION IS MORE EVEN FROM THE VERY FIRST APPLICATION. THE SERUM'S MAIN ACTIVE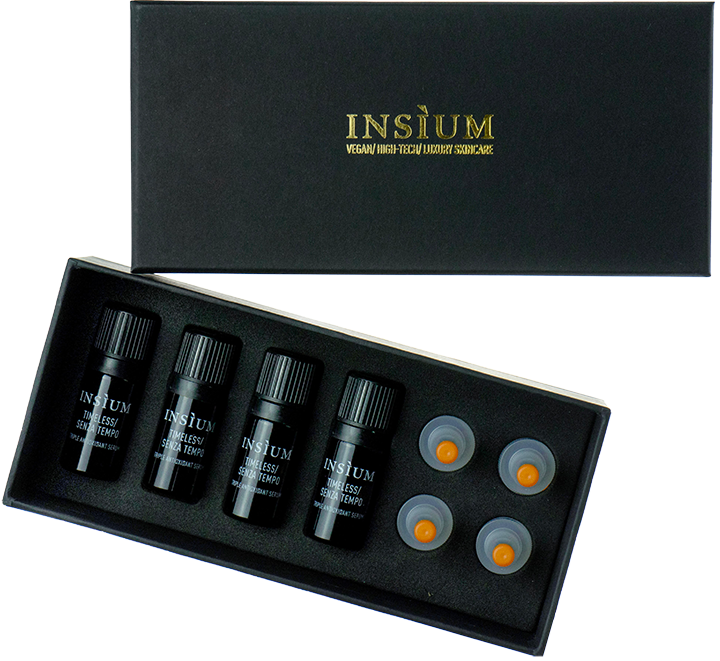 INGREDIENTS ARE:
Pure VITAMIN C powder (Ascorbic Acid): antioxidant with an all-round anti-age action. It improves the appearance of fine lines and wrinkles, loss of firmness in the skin and the brightness of the complexion. Activating it just before use maintains all its power and effectiveness.
FERULIC ACID: a powerful antioxidant and naturally photo-protective. It acts as a boost to the Vitamin C, making it more effective and slowing down its oxidation.
LACTOBIONIC ACID: anti-age, antioxidant, hydrating and brightening.
IDEAL FOR THE FACE, EYE AREA, EYELIDS, NECK AND DÈCOLLETÈ.
SUITABLE FOR ALL SKIN TYPES
THIS SERUM DOES NOT CONTAIN: PRESERVATIVES, SILICONES, COLORANTS, MINERAL OILS, ANIMAL PRODUCTS, PARAFFIN, PETROLATUM, PEG OR PPG, PETROLEUM JELLY, NANOMATERIALS, PROPYLENE GLYCOL, DEA OR TEA, ALCOHOL or EDTA.
DERMATOLOGICALLY TESTED FOR SENSITIVE SKIN
HEAVY METALS TESTED
NICKEL TESTED
| | |
| --- | --- |
| | |
---
HOW TO USE
Turn the cap clockwise as far as it will go until the ring breaks and the powder inside the cap is released into the vial. Shake vigorously for at least 15 seconds. Unscrew the cap (NOTE: the orange pod must remain in the cap with the base open; if, after opening, it is still in the vial or is not open, screw the cap clockwise again as far as you can, then unscrew). Screw on the special dosing pipette.
Apply morning and evening on the face, neck and décolleté after cleansing. For optimum results, use each vial preferably within 7 days after mixing.
After applying you may feel a slight tingling sensation. This is due to the vitamin C interacting with the skin. Even if the product's colour changes slightly, it will still be just as effective. Store away from sources of heat at a temperature lower than 10°C.
---
INCI
---
HOW TO DISPOSE
We are doing what we can to maximize the use of recyclable materials and minimize our impact on the planet. Your contribution can make a difference too! Learn how you can properly dispose of this product:
| | | |
| --- | --- | --- |
| Box | Paper (PAP 21) | Paper |
| Bottle | Plastic (PET 1) | Plastic |
| Cap | Plastic (PET 1) | Plastic |
| Tank | Plastic (PL 7) | Plastic |
| Sachet | Plastic (C LDPE90) | Plastic |